RECTOR'S OFFICE
Tuzla, 1 December 2022
We are happy to inform you that the call for GUSEGG 2023 is OPEN!
The Graz International Summer School Seggau (GUSEGG) is a 2-weeks international academic program inviting motivated and interested students from all disciplines and all levels to apply. Approaching the overall topic: Conflict, Challenge and Change: State – Society – Religion, students will attend morning lectures, seminar modules and panel discussions and thus learn about this topic from different disciplines and perspectives.
The unique setting of 80 students and 20 professors from all over the world living together on the castle campus will enable in-depth discussions between seminars and lectures, and foster a sustainable knowledge-transfer. Information on the academic program and the application process can be found on our poster, as well as on our website: GUSEGG – Büro für Internationale Beziehungen (uni-graz.at). We are sending you the new GUSEGG flyer and poster in the attachment. We will be happy to mail them.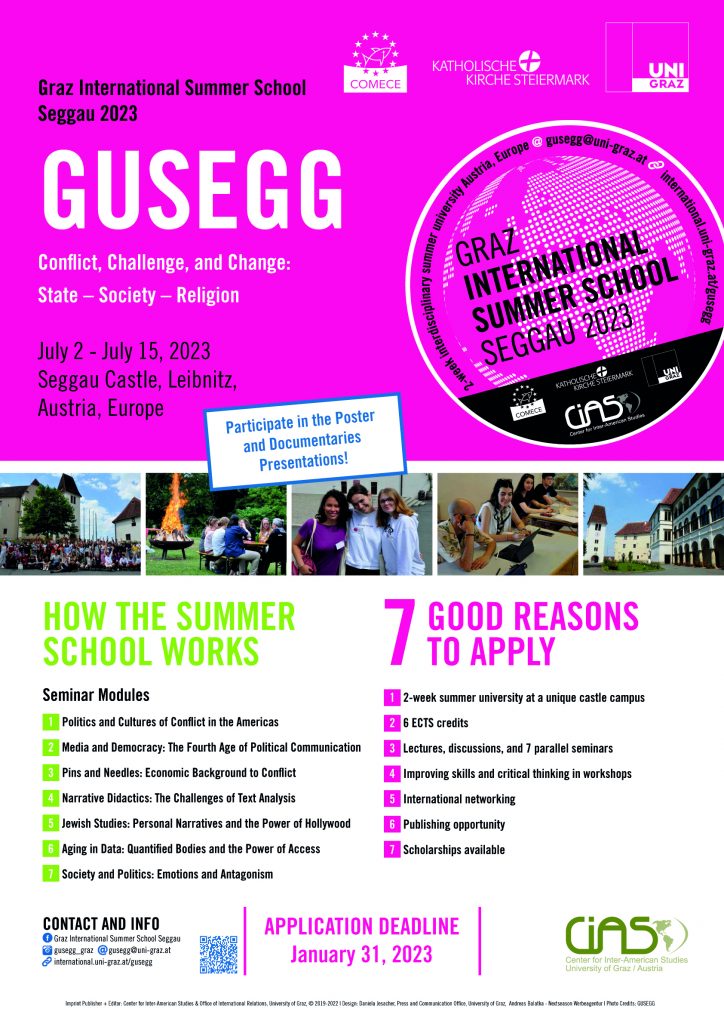 Please find also our short "pitch" email below and feel free to send it out to your students and faculty who might be interested in our program. There is also a link to our GUSEGG trailer (ca. 3 min), which shows how the summer school works.
We are looking forward to welcoming your students at Seggau and are happy to answer any questions you or your students might have.