Faculty of Mining, Geology and Civil Engineering
Tuzla, April 23, 2018
At the Faculty of Mining, Geology and Civil Engineering has been completed a purchase and installation of equipment within the project "Western Balkans Academic Education Evolution and Professional's Sustainable Training for Spatial Data Infrastructures" – BESTSDI http://bestsdi.eu/ in which participates the University of Tuzla.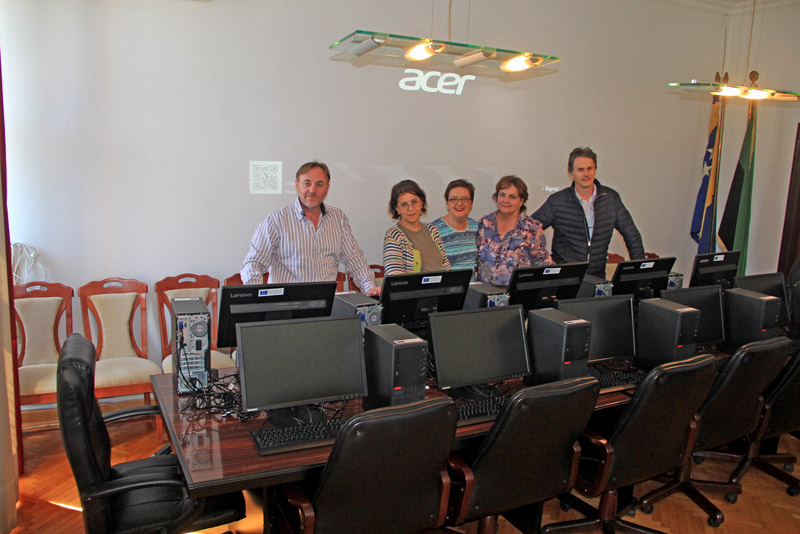 Project BESTSDI, within the program ERASMUS+ KA2 Capacity Building in Higher Education, is coordinated by the Faculty of Geodesy of the University of Zagreb with project partners Catholic University Leuven (B), University of Split (CRO), Ss. Cyril and Methodius University in Skopje (MK), Bochum University of Applied Sciences (D), Polytechnic University of Tirana (AL), Agricultural University of Tirana (AL), University of Banja luka (BiH), University of Mostar (BiH), University of Sarajevo (BiH), University for Business and Technology Prishtina (XK), University of Crna Gora (MN), University of Belgrade (RS), University of Novi Sad (RS) and University of Prizren "Ukshin Hoti" (XK), and affiliated partners: Federal Administration for Geodetic and Property Legal Affairs of FBiH (BiH), Republic Administration for Geodetic and Property Legal Affairs of RS (BiH) and Macedonian Cadastre Agency (MK).

BESTSDI project is realized with the aim of improving curricula by introducing concepts of Spatial Data Infrastructure (IPP) and e-government as well as expanding the concepts of "smart" cities, "smart" environments, digital market and others that are based on spatial data infrastructure.
The courses covered by the project are intended for students with specialization in the management of basic geospatial data (e.g. in geodesy, geoinformatics, etc.) and for students at other faculties using IPP concepts such as urban planners, environmental engineers, forestry students, geography, mining, civil engineering, geology and agriculture.
By installing equipment, conditions were created for the further completion and strengthening of the Faculty's capacities, thus creating the assumptions for strengthening the role and significance of introducing concepts of spatial data infrastructure, the extension of curriculum with the courses in this field as well as for launching new research projects and intense cooperation of the universities with public and private sector in the areas of application of new geoinformation technologies and concepts.

 
EQUIPMENT HAS BEEN INSTALLED WITHIN THE ERASMUS+ PROJECT  BESTSDI AT THE FACULTY OF MINING, GEOLOGY AND CIVIL ENGINEERING