UNIVERSITY OF TUZLA
Tuzla, 1 June 2020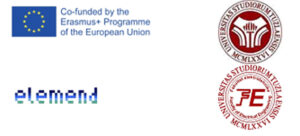 At the end of 2019 and beginning of 2020, Lab equipment, provided by the ELEMEND project, was delivered to the Faculty of Electrical Engineering, University of Tuzla.

Figure 1. Architecture of ELEMEND VIRTUAL Laboratory for Wind Turbine Emulation

Delivered Lab equipment is intended for development of ELEMEND Virtual Laboratory for Wind Turbine Emulation and processes involved in remotely monitoring and control of Wind Turbine Emulator.
Students will be able remotely monitor and control experiments using any HTTP-capable web client, including a standard web browser, or applet embedded in Moodle LMS, to exchange data using a URL and standard HTTP methods. Besides the aforementioned by using IP webcam student will have visual insight into laboratory setup.
A web client will exchange data with a remote LabVIEW stand-alone application, running on real time controller cRIO, over a network through LabVIEW Web services.
A web client, such as a browser, exchanges data with a LabVIEW Web service by sending an HTTP request to a specific URL. The Web service returns data to the web client in a particular format that you configure, such as XML.
EQUIPMENT FOR VIRTUAL LABORATORY FOR WIND TURBINE EMULATION SUPPORTED BY ELEMEND PROJECT

ELEMEND – Oprema za Virtuelnu laboratoruju za simulaciju rada vjetroagregata