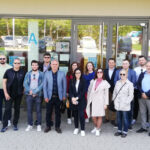 SUCCESS – Partnership for Entrepreneurship – UAS Kempten Training
As part of the project "Sustainable university-enterprises cooperation for improving graduate employability (SUCCESS)", funded by the Erasmus + program of the European Union, UAS Kempten hosted representatives of higher education institutions in the Western Balkans in an interactive training week from 9 to 13 May 2022. The University of Tuzla was represented by Prof.dr. Majda Tešanović i Prof.dr. Edin Cerjaković.
Informacije o projektu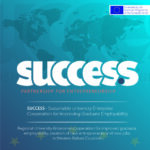 Projekt EU ERASMUS+ SUCCESS ima za cilj povezivanje univerziteta i industrije, unapređivanjem obrazovnog sistema u pravcu preduzetništva, stvaranjem novih prilika za posao i i prenošenjem praktičnog znanja iz industrije u obrazovne institucije, kako bi se na kraju smanjila stopa nezaposlenosti mladih i zaustavio trend odlaska aktivne radne snage iz naše zemlje.
More informations:
Web: https://www.success-project.ba
Facebook: https://www.facebook.com/UniversityEnterpriseCooperation/
Instagram: https://www.instagram.com/success_euproject/