International Relations Office
Tuzla, 4 June 2020

A lecture by Dr. Damir Arsenijević, Full Professor at the Faculty of Humanities and Social Sciences, University of Tuzla marked a third day of 25th Summer University in Tuzla.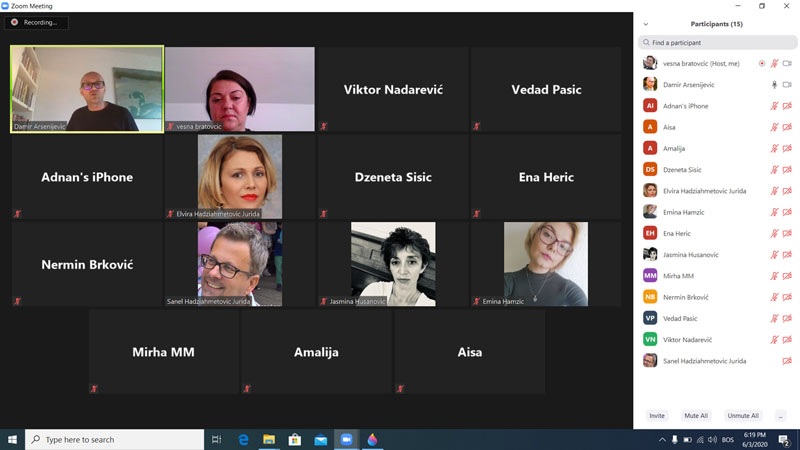 In his lecture entitled Environmental Humanities in Bosnia and Herzegovina: Opportunities for Classroom Innovation, Professor Arsenijević explained how environmental humanities transcends disciplinary narrow categories and shared information about real cases of environmental violence in Bosnia and Herzegovina especially in Tuzla. Air, water and soil pollution, daily endangerment and poisoning of the population of Tuzla and Tuzla Canton, environmental crises, and improperly disposed highly toxic substances that have been abandoned for years and hidden in the privatization of industry in the Tuzla basin are just some of the most important information shared at the lecture.
From a short film called 'Land of poison' we learned that our city has a "time bomb" located in the area of an abandoned factory building 'HAK Tuzla', which all authorities know about, but have not done anything for decades. Professor Arsenijević proposed four categories for analysis of facts and cases in the light of the new research, such as Critical environmental justice:
1.Study the processes of reproduction of the dominance and control system and how social inequality and opposition overlap, and how people in the human world and beyond, are under the impact of oppression, and in fact those people are the factors of social change.
2.An issue of scale, actually an issue of order that we should keep in mind when we talk about environmental injustice or where we start. Do we start from the level of power and about which geographical and time scales are we talking about?
3.How does the state apart implement insecurity and who decides on environmental justice?
4.Human body as a living environment that is which populations are doomed to extinction and early death (for example, the settlement Divkovici, where everyone have a cancer).
Professor gave his answer to the question of knowledge production or his vision of why all this is an opportunity for innovation in the classroom today. He noted that University of Tuzla now has the opportunity to start something socially significant and very relevant, which will give our students the opportunity to work. His proposal is to bring together students from various disciplinary fields (biology students from Faculty of Natural Sciences and Mathematics, environmental students from Faculty of Mining, Geology and Civil Engineering, students from departments of history, psychology and journalism of the Faculty of Humanities and Social Sciences, as well as students from the Faculty of Law) and that they discuss on the specific things that we are facing when it comes to economic danger, and students can prepare case studies, where they will study how interdisciplinarity is implemented in practice.
Professor Duev concluded his lecture by concluding that Europe from the 19th century to this day does not preserve the tradition of its origin from Ancient Greece and Ancient Rome and does not respect its tradition, in which our ancestors were tolerant towards other religions and other beliefs.
ENVIRONMENTAL HUMANITIES IN BOSNIA AND HERZEGOVINA: OPPORTUNITIES FOR CLASSROOM INNOVATION