The Solemn Conferment was held on Thursday, July 07, 2022 at 10.00 am in the A2 Amphitheater of the Faculty of Faculty of Humanities and Social Sciences of the University of Tuzla (Address: Dr. Tihomila Markovića, 1).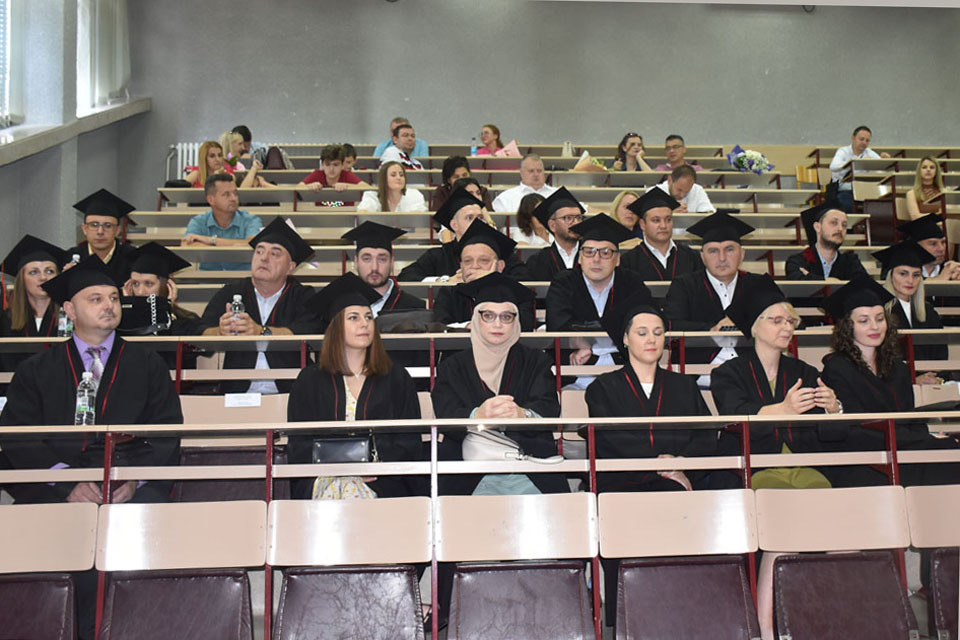 The Rector of the University of Tuzla, Prof.Dr. Nermina Hadžigrahić and Minister of Education and Science Mr. Ahmed Omerović addressed to the present guests and doctors of sciences.
On behalf of the PhD students, Maya Iveljić addressed to everyone and noted that all PhD students do not need to stop now, but that this should be their inspiration to devote themselves even more to their scientific disciplines. She noted that the vocation they receive today is also their responsibility. She told everyone that we should be persistent and consistent in our research and try to make science accessible.
Guests had opportunity to enjoy the performances of Armin Smajić, a student of the Secondary Music School of Čestmir Mirko Dusek Tuzla in the class of Professor Elvis Sivčević.
Rector Hadžigrahić, with the deans of the Faculties of University of Tuzla, promoted 23 Doctors of Sciencs, emphasizing the academic contribution to the development of the local community and contribution to the future development of University of Tuzla, as well as to the overall social, economic and political growth of Bosnia and Herzegovina as a country that should primarily rely on professional young personnel.

In honor of the Doctor of Sciences, the following have been promoted:
1. Prof.dr. Edin Begić

2. Prof.dr. Aida Smajlagić

3. Prof.dr. Darja Husejnagić

4. Prof.dr. Aldijana Avdić

5. Prof.dr. Sanela Nazdrajić

6. Prof.dr. Martina Tanović

7. Prof.dr. Ahmed Omerović

8. Prof.dr. Jasenko Čomić

9. Prof.dr. Azra Kovačević

10. Prof.dr. Jasmina Dedić

11. Prof.dr. Ćazim Šarić

12. Prof.dr. Faruk Latifović

13. Prof.dr. Emir Omerdić

14. Prof.dr.Tulumović Emir

15. Prof.dr. Smajić Nedim

16. Prof.dr. Maja Iveljić

17. Prof.dr. Samira Mujkić

18. Prof.dr. Dževad Forčaković

19. Prof.dr. Nerman Ljevo

20. Prof.dr. Ernad Jabandžić

21. Prof.dr. Stipe Čelan

22. Prof.dr. Valbon Gashi

23. Prof.dr. Anis Cerovac

 
The Solemn Conferment 

Svečana promocija doktora nauka